PREGNANCY & IRON DEFICIENCY ANEMIA
During pregnancy, women need to produce more blood to support their growing baby. However, a lack of iron or certain other nutrients, means the body may not be able to produce the amount of red blood cells it needs to make the additional blood, causing Iron Deficiency Anemia.​
Common symptoms include fatigue and breathlessness in anemic mothers.
COMMON SYMPTOMS IN ANEMIC MOTHERS
Fatigue
Breathlessness
Pale skin
INCREASING DEMAND FOR IRON PER TRIMESTER
The demands for iron increase drastically during pregnancy.
First trimester
Iron requirement:
0.8-1.0 mg/day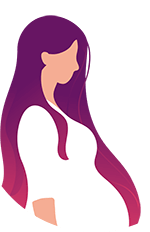 Third trimester
Iron requirement:
7.5 mg/day
THE ROLE OF FOLIC ACID & VIT B COMPLEX
When the baby is developing during early pregnancy, folic acid helps form the neural tube, and can help prevent neural tube defects.​
Vitamin B complex plays an important role in maintaining your health and strength while your baby develops.
Iron supplements:
THINGS TO NOTE
Iron supplements can significantly help reduce anemia during pregnancy.​
However, side effects like diarrhea, nausea, vomiting, constipation and abdominal cramping may occur.​
Here's how to manage them:
Slow-release iron pills may be gentler on the stomach, for example Iberet® Folic 500, has Sustained Release Gradumet® Technology that helps reduce gastric irritation​.​
Calcium should NOT be taken at the same time as iron.​ Also avoid milk, antacids, high-fiber foods and caffeine.
Take iron supplements with a small amount of food​.
DIAGNOSING IRON DEFICIENCY ANEMIA

What are my iron levels?​

What are the risks? Short-term and long-term?

How serious is it?

What are the tests that I should take?​

What's the most likely cause of my symptoms?​

What is causing my iron deficiency?

What symptoms should I watch out for?​

Are there other possible causes of my symptoms?​

What are my treatment options?​

How long will the treatment take?​

Are there any side effects?​

What foods should I eat to increase my iron level? What foods to avoid?​

How do I prevent IDA from happening again?
For the proper treatment and care, it is best to consult your doctor if you think you may have Iron Deficiency Anemia. Here's a handy, downloadable list of questions to ask your doctor at your visit.